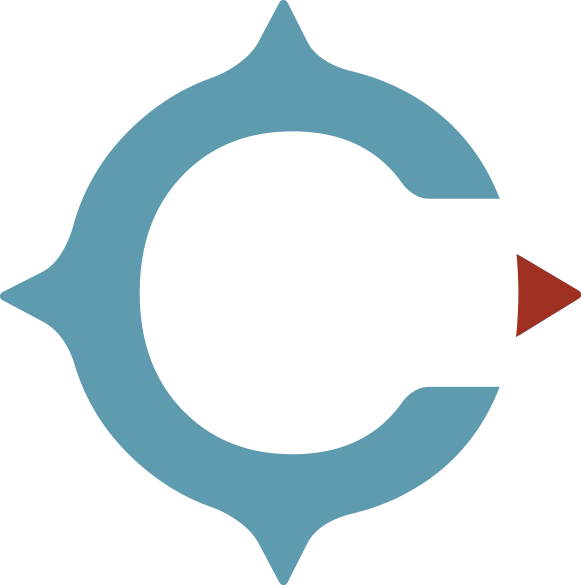 A great looking website can still perform poorly.
So many graphic and website design firms give lip service to SEO and "website optimization." They may build something pretty, a new website that "meets all modern design and user-experience standards"–but does it load quickly? Is it mobile-friendly? Does it support your business's goals and conversion strategy? Most importantly: Can a search engine understand it? Because if a search engine can't crawl your site and make heads or tail of what it finds, then your business will remain invisible.
---
A SEO-Friendly Website Design Company
We are not graphic designers. We are not a web development company. But we understand search engines. We also understand business, and how to generate leads and conversions. Most importantly, we understand how to integrate a real-world business strategy with an online presence in a way that Google and other search engines understand—without sacrificing your user's experience or chasing away potential clients.
We do the keyword and market research, then work with business owners to develop the strategy that meets business goals through SEO, PPC, and other digital marketing and advertising channels. Once we've developed this digital marketing plan and strategy, we call on excellent web design and content creation partners with whom we have long-standing relationships.
These partners can translate our SEO insights and your business needs into beautiful, user-friendly websites that meet all the expectations of your visitors and customers (intuitive navigation, fast load times, mobile responsive design)—while also being attractive to search engines.


It's Never Too Late for SEO-Friendly Website Design
When we team up to design and develop your website, we do so with an eye toward future growth. We always aim for site architecture built to accommodate the sort of content and navigation you need to support a long-term SEO strategy.
Your website is more than just a digital resume or business card. It offers the opportunity to create a virtuous cycle. With proper search engine optimization, that site will draw in visitors who have no previous experience with your brand or services. Once there, if that site is well-designed—attractive, easy to read, mobile-friendly—it will build confidence in the visitor. They'll stay longer, learning more about your services—and at the same time increasing your rank in the eyes of search engines. That improved ranking brings more visitors—some of whom will convert to customers—and the wheel keeps turning.
FAAC Website SEO Strategy & Consulting Case Study
---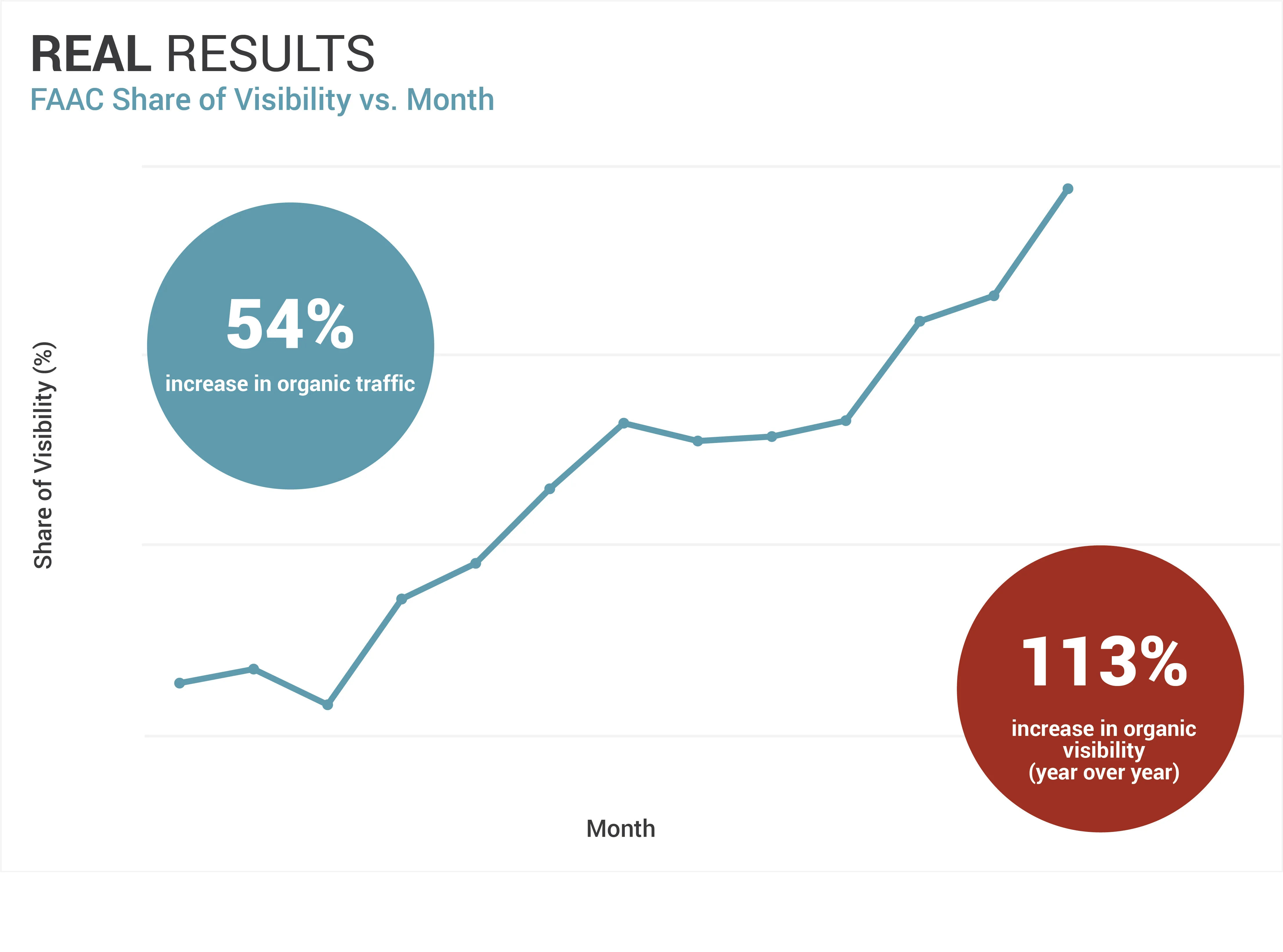 Situation
Outdated website with content split between three domains
Low search visibility for core terminology
No form conversion tracking or call tracking in place
Approach
Develop in-depth content architecture to merge three websites
Partner with FWD to build new website with solid technical foundation
Configure conversion tracking for web forms and phone calls
Results
39.7% increase in first page (top 10) results (within 3 months of launch)
20.7% increase in aggregate organic traffic (year over year)
11.7% increase in overall search engine visibility (within 3 months of launch)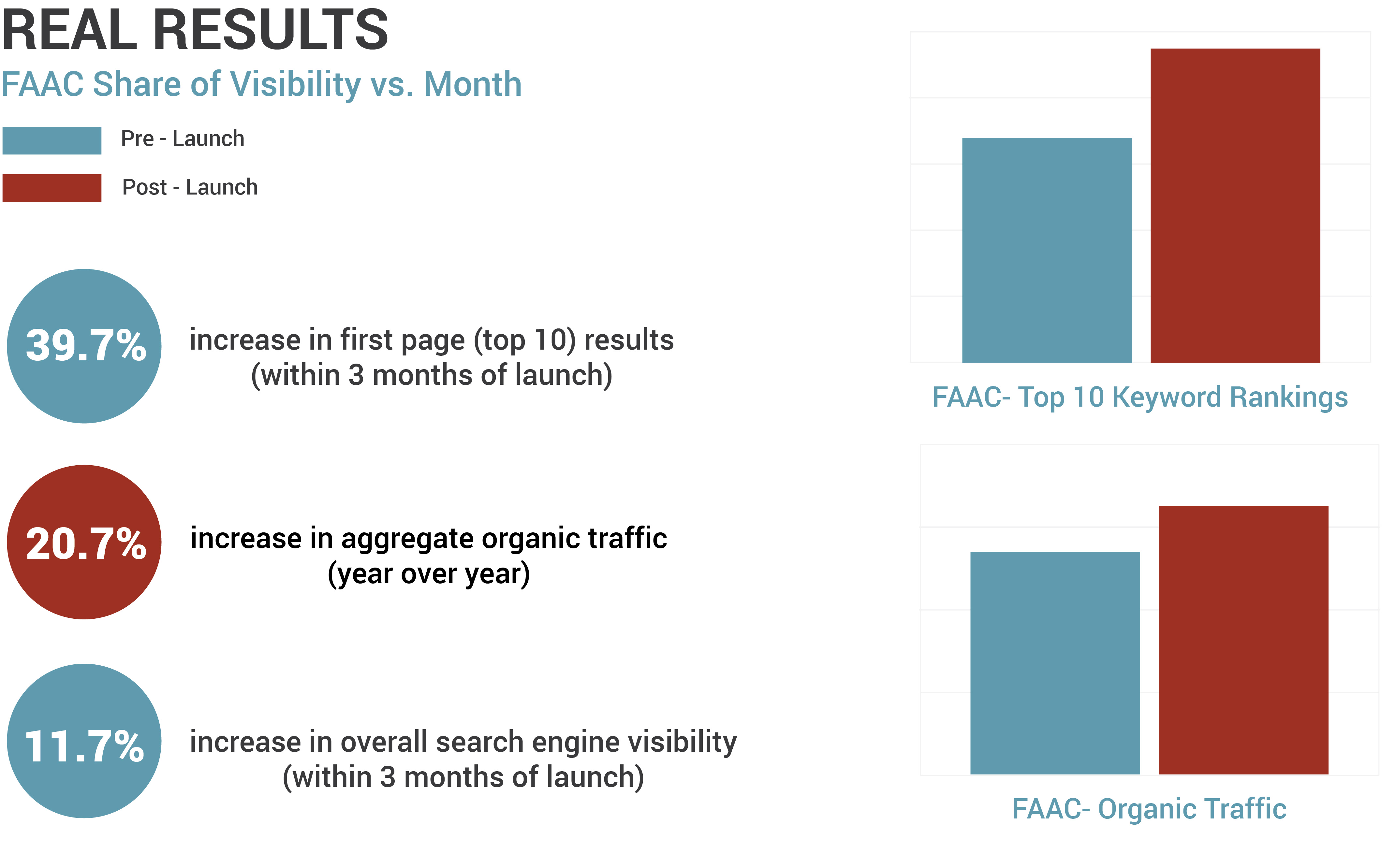 Read More
---
"In a field like digital marketing that's always evolving, I have every faith we're in good hands working with the Climb Marketing team. Everyone is earnestly working on growing our business, always on the lookout for new opportunities to optimize and/or broaden our reach. I also appreciate their candor–there's never a question you're getting the straight story."
"Climb Marketing took the time to understand our complex business and all of our many business sectors, which has really helped communicate our message and generate great results. We see Climb as an extension of our internal marketing team, with a level of service that has been greatly valued across our entire corporation."
---
Where Does It Hurt?
Take our self-assessment to identify your biggest digital marketing needs, and see how Climb Marketing can help.
Need an Expert?
Every great partnership starts with that first conversation. Contact us today so we can explore your needs together.
---