FAAC Website SEO Strategy & Consulting Case Study
FAAC are innovators in simulation-based training and research, for markets ranging from public safety (police, EMS, fire departments) to academic universities. However, their website had become outdated and unmanageable, and they were falling behind their competitors in organic visibility. Moreover, they were splitting their web presence between three domain names in order to separate their sub-brands, and had no systematic way to track online conversions.
---
Our Approach
Climb Marketing partnered with FWD to develop a stronger foundation for FAAC's online presence by consolidating their content under a single domain name with a modernized website. Climb conducted in-depth keyword research, and partnered with FWD and FAAC's internal stakeholders to agree on a new content architecture that would allow them to compete for organic visibility. Climb then worked with FWD to ensure that the technical underpinnings of the new website would facilitate indexation by search engines. Additionally, web form conversion tracking and call tracking would be implemented in order to measure the impact of the new website.
---
Real Results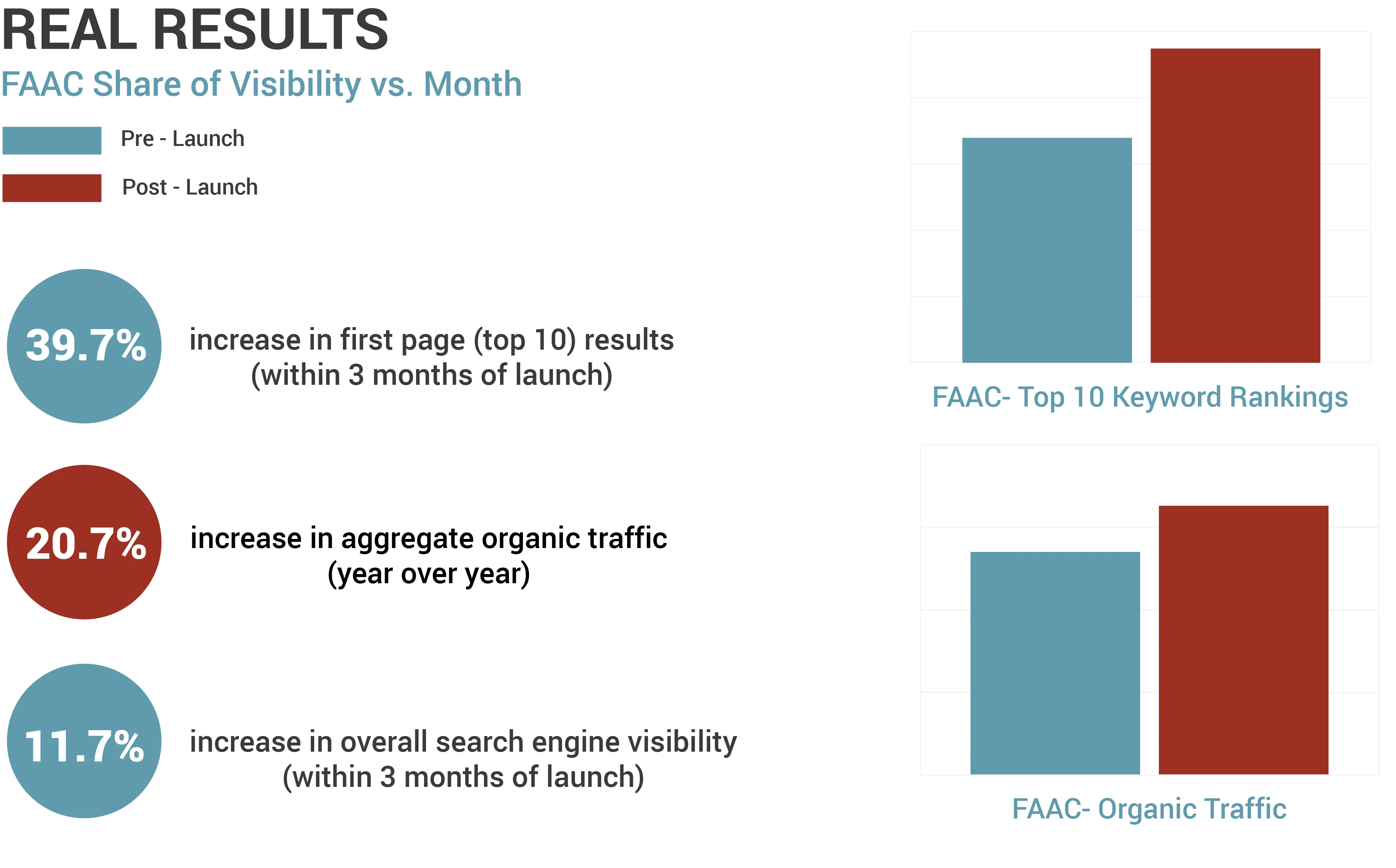 Within three months of launching the new website, first page (top 10) keyword ranking results increased by nearly 40%, resulting in an aggregate increase of organic traffic by over 20%. Web form conversion tracking and call tracking began successfully measuring conversions by division and by marketing channel. Further growth for FAAC was attained through ongoing content optimization.
"Climb Marketing took the time to understand our complex business and all of our many business sectors, which has really helped communicate our message and generate great results. We see Climb as an extension of our internal marketing team, with a level of service that has been greatly valued across our entire corporation."
Manager, Marketing Production Department

,

FAAC

-
Where Does It Hurt?
Take our self-assessment to identify your biggest digital marketing needs, and see how Climb Marketing can help.
Start Self-Assessment
Need an Expert?
Every great partnership starts with that first conversation. Contact us today so we can explore your needs together.
Request Consultation
"I've had the pleasure of working with the crew at Climb Marketing for 8 years. During this time, they've partnered with me to help launch, develop and expand digital marketing programs for two different companies with very distinct dynamics. The strategic approach of Climb Marketing enables them to synthesize complex business challenges and market opportunities into actionable plans that drive tangible results. Climb Marketing has the depth of skill and experience to make them a solid partner to any organization at any phase in their content or marketing journey."
VP of Marketing & Communications

,

Gale, a Cengage Company

-
Learn the Story Behind Climb, and How We Can Help Your Business
Hear What We're About From Our Founder
Jeremy went from e-commerce entrepreneur to running a digital agency. Along this journey he's developed a set of skills and cultivated a team that he can draw together to take people up the mountain.
"Climb Marketing took the time to understand our complex business and all of our many business sectors, which has really helped communicate our message and generate great results. We see Climb as an extension of our internal marketing team, with a level of service that has been greatly valued across our entire corporation."
Manager, Marketing Production Department

,

FAAC

-