Traction Tools Case Study - RLSA Boosts Conv. Rate
Traction Tools provides software to help companies implement the methodologies of the Entrepreneurial Operating System® (EOS). Founded in 2013, the popularity of the software grew largely through referrals and partnerships within the EOS community. After working with Climb to launch paid search advertising as well as numerous other digital advertising platforms, Traction Tools sought to improve conversion rates of the Google Ads platform – the number one driver of website conversions from paid advertising at the time.
---
Our Approach
With the Google Ads account already at a mature point with keyword targeting, bidding, and device-specific enhancements, Climb decided to test Remarketing Lists for Search Ads (RLSA) within top-converting campaigns. Utilizing a remarketing pixel on the Traction Tools website, Climb was able to deliver hyper-relevant advertising on Google search results to previous website visitors for a fraction of the cost of normal paid search advertising.
---
Real Results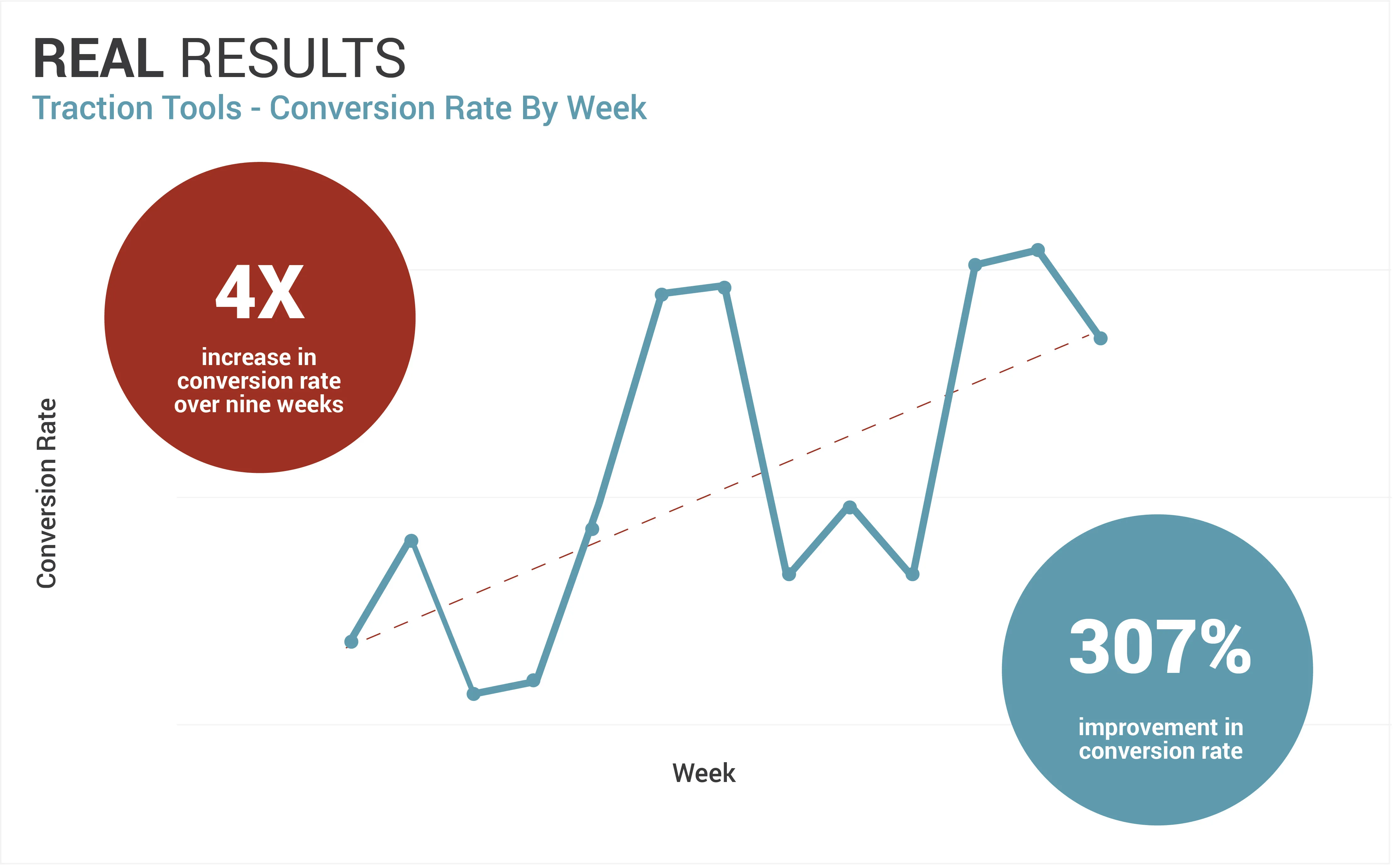 Conversion-related metrics improved almost instantaneously after adding the remarketing audience to the ad targeting. Conversion rates averaged 1.26% at the start of the test, and grew steadily over the next nine weeks to a 5.13% average — an increase of 307%. The average cost per conversion also decreased 74% in the same period, improving ROI, and allowing Traction Tools to justify an increase in the overall advertising budget.
Where Does It Hurt?
Take our self-assessment to identify your biggest digital marketing needs, and see how Climb Marketing can help.
Start Self-Assessment
Need an Expert?
Every great partnership starts with that first conversation. Contact us today so we can explore your needs together.
Request Consultation
"In a field like digital marketing that's always evolving, I have every faith we're in good hands working with the Climb Marketing team. Everyone is earnestly working on growing our business, always on the lookout for new opportunities to optimize and/or broaden our reach. I also appreciate their candor–there's never a question you're getting the straight story. You can trust this team to take care of you and do great work!"
Former Director of Marketing

,

Traction Tools

-
Learn the Story Behind Climb, and How We Can Help Your Business
Hear What We're About From Our Founder
Jeremy went from e-commerce entrepreneur to running a digital agency. Along this journey he's developed a set of skills and cultivated a team that he can draw together to take people up the mountain.
"In a field like digital marketing that's always evolving, I have every faith we're in good hands working with the Climb Marketing team. Everyone is earnestly working on growing our business, always on the lookout for new opportunities to optimize and/or broaden our reach. I also appreciate their candor–there's never a question you're getting the straight story. You can trust this team to take care of you and do great work!"
Former Director of Marketing

,

Traction Tools

-