Valicor Case Study: Landing Page Testing
Trucent (formerly Valicor) provides industrial fluid separation and reclamation services. This includes oils, coolants, cleaners and wastewater used during manufacturing. Climb was engaged to provide paid search advertising management for Trucent and drive qualified leads through the website. The existing pages on the Trucent website lacked specificity for particular types of fluid separations, as well as strong calls to action leading potential customers to contact the company. As a result, the Google Ads campaign suffered from poor quality scores and a low conversion rate.
---
Our Approach
Climb identified high priority keywords within the paid search account and began building custom landing pages designed to specifically address these keywords and drive traffic toward various conversion points. These pages were rolled out iteratively over the course of our engagement. Various page elements were testing along the way until a fully optimized landing page template was realized.
---
Real Results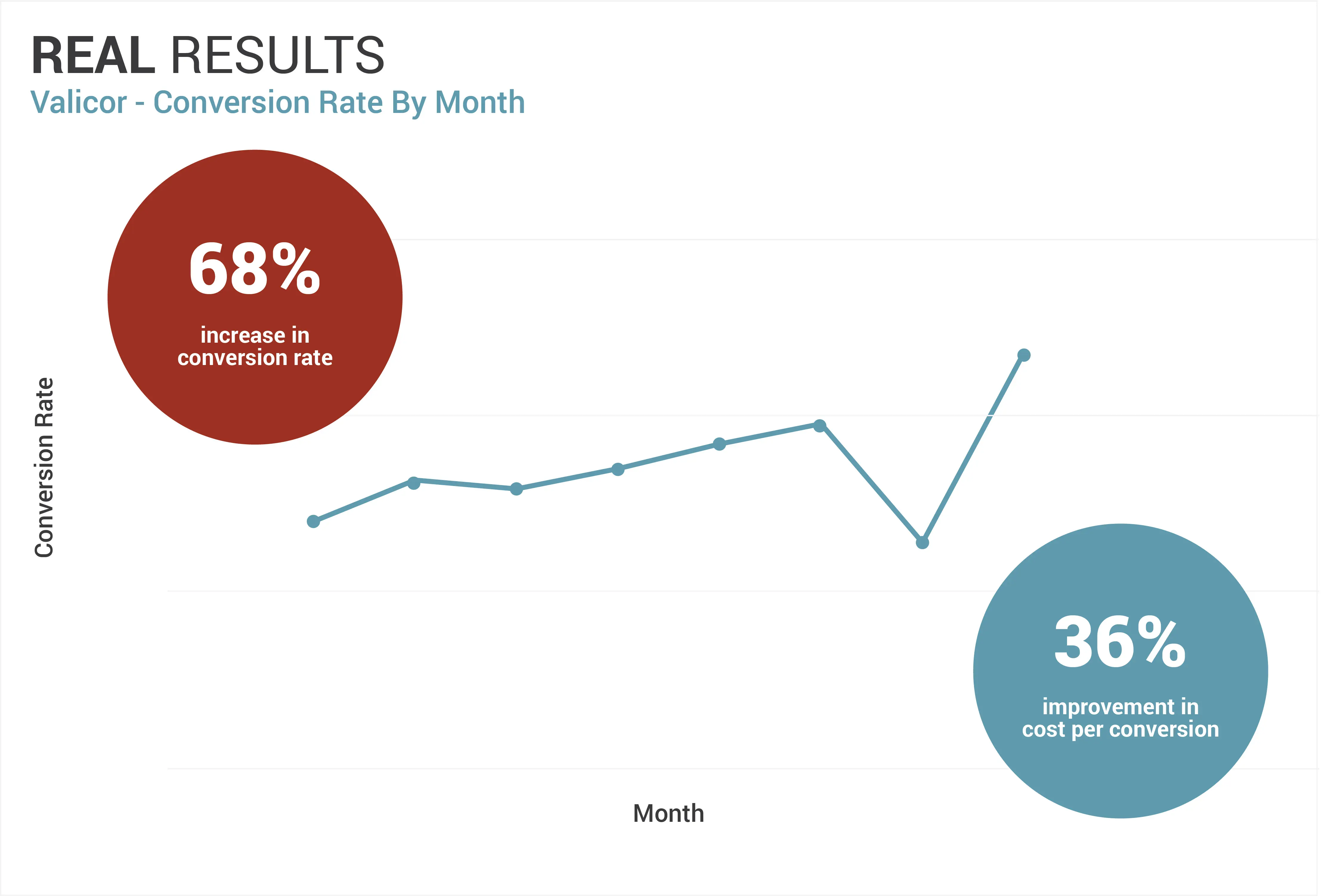 Conversion rates improved immediately following the launch of the first custom landing page and continued to rise steadily as additional pages were created for each keyword target. Conversion rate averaged 2.8% at the start of the test and nearly doubled at their highest point seven months later with an average of 4.7%. Keyword quality scores also began to improve, leading to decreases in cost per click. The cheaper, higher-converting traffic lead to a 36% decline in cost per conversion over the course of the testing.
Where Does It Hurt?
Take our self-assessment to identify your biggest digital marketing needs, and see how Climb Marketing can help.
Start Self-Assessment
Need an Expert?
Every great partnership starts with that first conversation. Contact us today so we can explore your needs together.
Request Consultation
"I've worked with Jeremy and the Climb Marketing team for over eight years, and can say, without a doubt, that their SEO services are the best around. Their optimization (and eventual redesign) of our website has helped us capture a commanding presence in search engines, fueling our North American growth. And on top of that, they're a true pleasure to work with – what more could you want in a partner?"
CEO

,

Priorclave North America

-
Learn the Story Behind Climb, and How We Can Help Your Business
Hear What We're About From Our Founder
Jeremy went from e-commerce entrepreneur to running a digital agency. Along this journey he's developed a set of skills and cultivated a team that he can draw together to take people up the mountain.
"Climb Marketing took the time to understand our complex business and all of our many business sectors, which has really helped communicate our message and generate great results. We see Climb as an extension of our internal marketing team, with a level of service that has been greatly valued across our entire corporation."
Manager, Marketing Production Department

,

FAAC

-